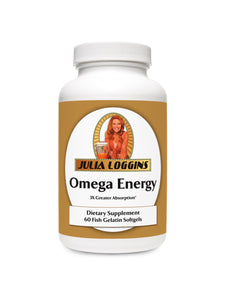 Omega Energy
Regular price $23.45 Sale
The number one threat to women's health is heart disease. Optimal Omega levels reduce the risk of heart disease as well as protect from viruses and infections. Omega Energy (50 mg) provides dual-action cardiovascular support. Patented ingredients selected for their roles in promoting heart health enhance this formulation. MaxSimil® highly absorbable monoglyceride fish oil is International Fish Oil Standards (IFOS) five-star certified. Kaneka Q10®, a pure form of bioidentical CoQ10, is proven to boost heart energy production as well as protect the cardiovascular system from oxidative stress.*
Directions
Take one soft gel twice per day, or as directed by a healthcare practitioner. Consult a healthcare practitioner prior to use. If you take medication, discuss potential interactions with a healthcare practitioner. If the tamper seal is damaged, do not use.
Storage
Keep closed in a cool, dry place out of reach children's reach.
Does Not Contain
Wheat, gluten, corn, yeast, soy protein, dairy products, shellfish, peanuts, tree nuts, egg, ingredients derived from genetically modified organisms (GMOs), artificial colors, artificial sweeteners, and artificial preservatives.
Other Ingredients
Softgel (bovine gelatin, glycerin, purified water, roasted carob powder), yellow beeswax, and mixed natural tocopherols.
Contains
Fish (anchovy and/or sardine and/or mackerel).
Supplement Facts
Serving Size: 1 softgel
Servings Per Container: 30
Amount Per Serving | % Daily Value
MaxSimil® Fish Oil Concentrate | 250 mg **
Total Omega-3 Fatty Acids | 174 mg **
EPA (eicosapentaenoic acid) | 115 mg **
DHA (docosahexaenoic acid) | 50 mg **
Kaneka Q10® Coenzyme Q10 (as ubiquinone) | 50 mg **
** Daily Value not established.
All Formulas Meet or Exceed cGMP Quality Standards.