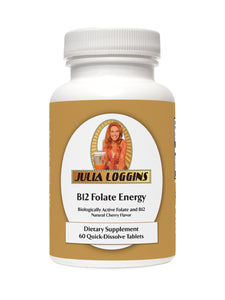 B12 Folate Energy
Regular price $38.25 Sale
This simple, instantly metabolized cherry-flavored tablet is packed with Active Folate and B12—critical for nervous system health. B12 Folate Energy is designed for those with compromised detox pathways, autoimmune issues, or the MTHFR gene.
Environmental sensitivities are prominent in those with the MTHFR gene. Yet, anyone may experience an inability to assimilate Vitamin B12 and Folate. Absorption issues may result in infertility, nervous system and hormone imbalances, as well as immune weakness. Therefore, B12 Folate Energy is designed to:
Support methylation*
Support nervous system health*
Support normal cellular proliferation (including red blood cells)*
Does not contribute to unmetabolized folic acid accumulation (UMFA)*
Support healthy serum folate levels*
Support a healthy pregnancy outcome*
B12 Folate Energy features Quatrefolic® and methylcobalamin in a great-tasting, quick-dissolve tablet form. Quatrefolic is the glucosamine salt of 5-MTHF—the biologically active form of folate that increases plasma folate more effectively than folic acid.*
Directions
Take one cherry-flavored tablet daily, or use as directed by a healthcare professional.  
Consult a healthcare professional prior to use. Individuals consuming medication should discuss potential interactions with a healthcare professional. If the tamper seal is damaged, do not use.
Storage
Keep closed in a cool, dry place out of children's reach.
Formulated to Exclude
Wheat, gluten, yeast, soy protein, animal and dairy products, fish, shellfish, peanuts, tree nuts, eggs, ingredients derived from genetically modified organisms (GMOs), artificial colors, artificial sweeteners, and artificial preservatives.
Other Ingredients
Xylitol, ascorbyl palmitate, silica, and natural cherry flavor.
Supplement Facts
Serving Size: 1 quick-dissolve tablet
Servings Per Container: 60
Amount Per Serving | % Daily Value
Folate (as (6S)-5-methyl-tetrahydro folic acid, glucosamine salt)S1 1,700 mcg DFE | 425%
Vitamin B12 (as methylcobalamin) 2,500 mcg | 104,167%
Trademarks
S1. Quatrefolic® is a registered trademark of Gnosis S.p.A. Produced under US Patent 7,947,662.